Brazil most beautiful and exclusive beach paradise
Any list of "Brazil's most beautiful beaches" must have at least five of Fernando de Noronha on its Top 10. Fernando de Noronha is an archipelago located 350km off Brazil's northeast coast. The archipelago belongs to a protected national marine park that was created to preserve the abundant ecosystem of the area. The surf spots in Fernando de Noronha are considered to be the best in the country due to the fact that the volcanic island doesn't have any continental shelf to reduce the power of the swells. The main source of waves come from the North Atlantic lows and the best time to surf in Fernando de Noronha is from November to February when the waves rarely drop below 3ft. The best surfing area is on the eastern coast of the main island and the best surf spot is Cacimba do Padre that has a powerful beach break with hollow barrels both for the left and the right. If you visit Brazil you should highly consider making a stop at Fernando de Noronha and find out why this is considered as one of the most beautiful places in the world.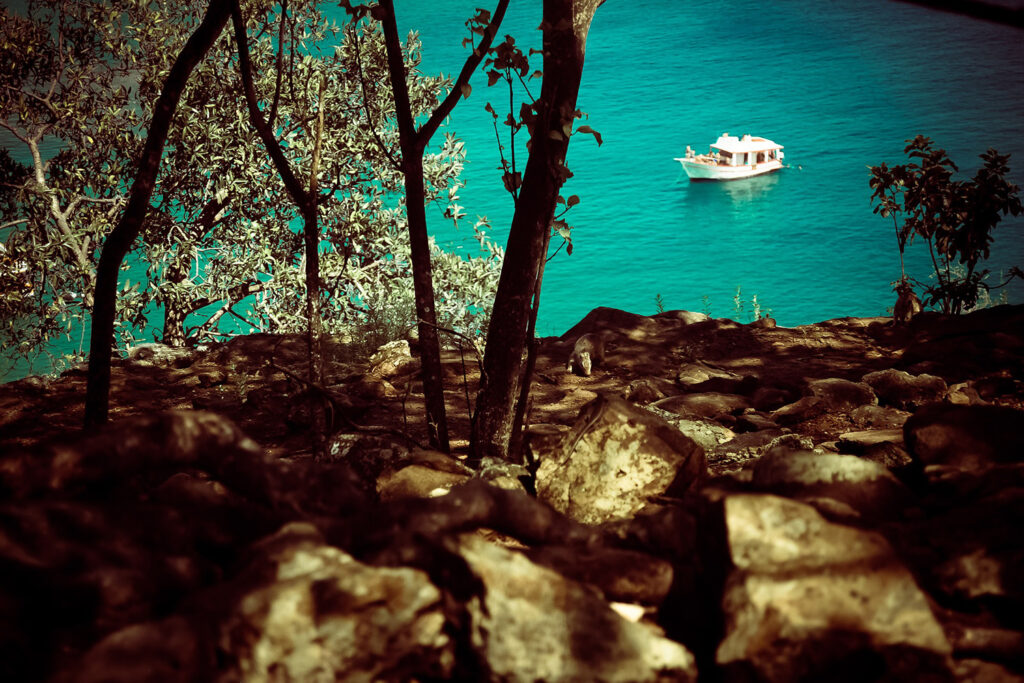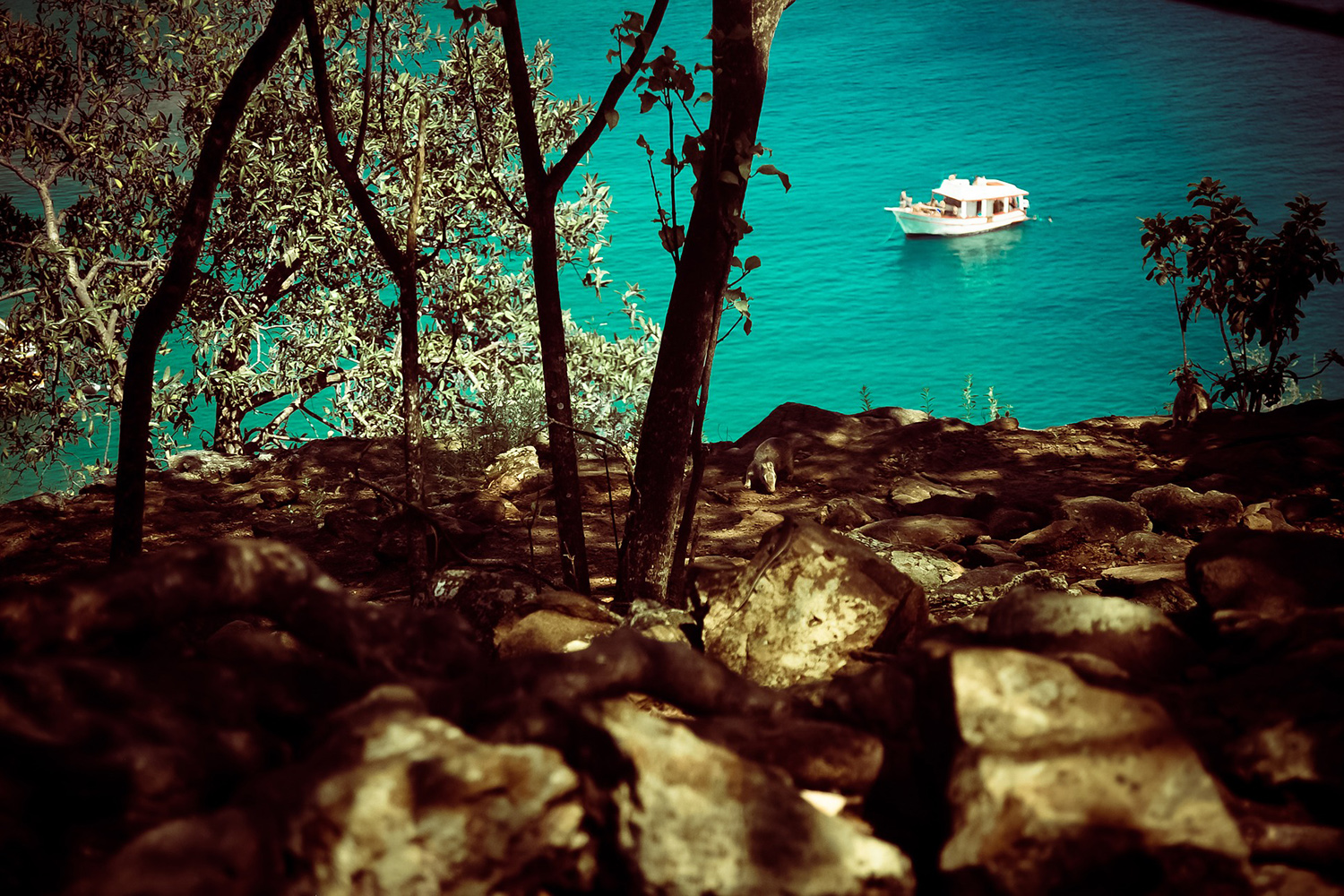 The archipelago is also an important reserve preserved as a National Marine Park; in 2001, UNESCO designated Noronha as Natural Patrimony of the World – fauna and flora are strictly preserved, and there are protection plans for marine turtles and spinner dolphins, frequently seen in the region. A trip to Noronha is a ticket to retiring from the real world for a while and dedicating yourself to paradise on earth, as a family, group or couple.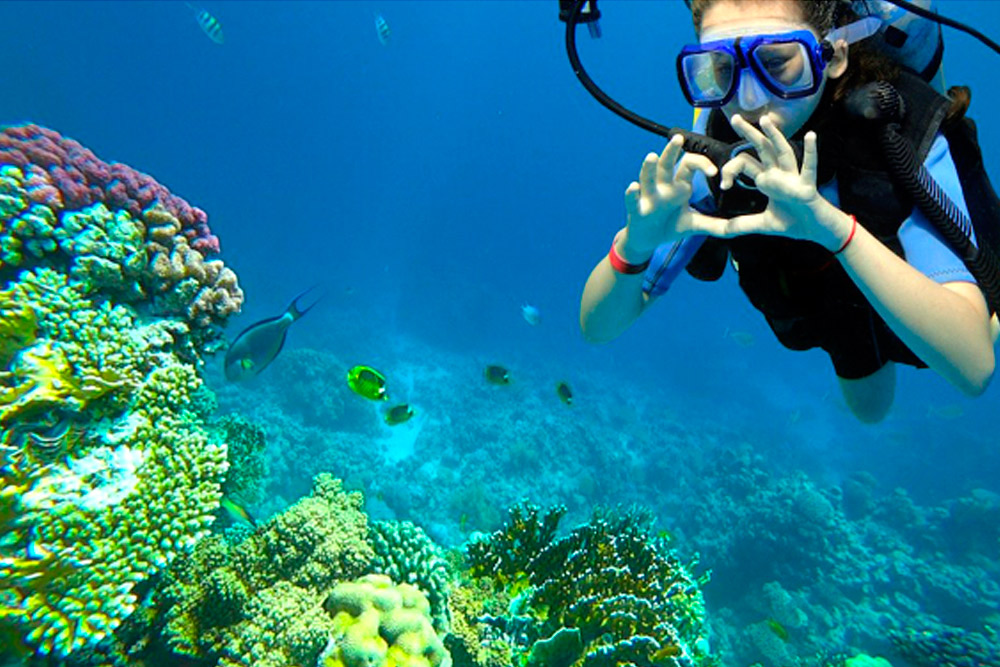 Noronha is world famous among divers. Get to know more about Scuba Diving in Fernando de Noronha. Fernando de Noronha is one of the best diving areas in Brazil. Its clear waters with an optimum temperature of 28-30 Celcius ( 73 - 86 Fahrenheit) and visibility of around 30 m ( 98 ft) allow for viewing the varied and sometimes endemic marine life in over 20 dive sites around the island, including:
Scuba Diving in Fernando de Noronha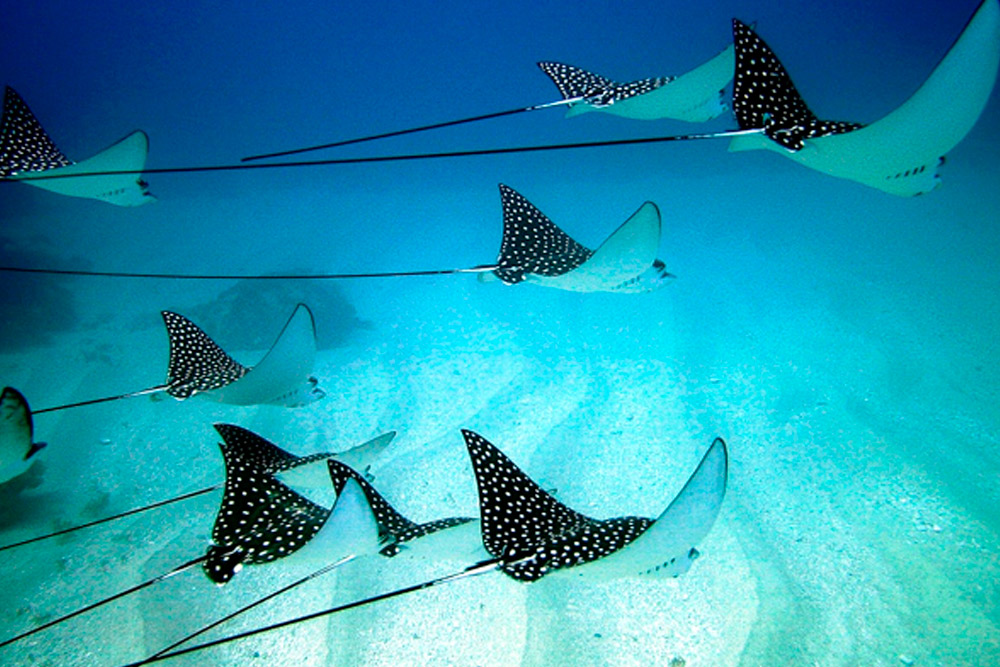 Below 20 m (66 ft) depth dive sites Pedras Secas (17m - 56 ft), regarded as one of the top 10 dive sites in the world, has an impressive rocky formation of tunnels, caverns and canyons, covered with corals and sponges. Squirrelfish, black margates, grunts, sea turtles and sand sharks frequent this spot. Buraco das Cabras (16 m - 52 ft) is one of the most vibrant diving areas, with a plethora of colors emerging from the rock formations, and huge variety of marine and plant life seen here such as manta rays, barracuda, turtles, angelfish, octopi, hammerhead sharks, lobsters, blackjacks, corals and sponges. Morro de Fora (15 m - 49 ft) is a nursery site with several infant species, including flounders and queen angel fish. This and Cagarras Rasas (16 m - 52 ft) where fire coral and a huge number of beautiful ornamental fish can be viewed, such as surgeons and damselfish, are good spots for beginner divers. 20 – 40m ( 66 - 131 ft) dive sites Laje dos dos Irmaos (24m - 79 ft) is the largest coral covered dive site of the island and attracts reef sharks and schools of chromis, hawksbill turtles, horse-eye jacks and fine bearded sharks. At Iuias (24m - 79 ft) rock formations, covered with coral and sponges, have created narrow passages and fissures, where schools of fish take shelter. Sightings of big fish like jewfish and black grouper are often made as well as nurse sharks and eagle rays. Carragas Fundas (30m - 98 ft) is a wall dive with great flora and fauna biodiversity and rare reef fish such as gray angelfish and rock beauty can be spotted here. Cabeco Submarino (20 m - 66 ft) is probably the best dive area for turtle lovers. Above 40m (131 ft) dive sites Cabeco da Sapata (43 m - 141 ft), an excellent multi-level dive site, only suitable for advanced divers, due to the depth and strong currents, is a small submarine mountain that rises nearly above the water level. Here triggerfish, grunts, chromis and horse-eyed jacks can be found. Pontal do Norte (45m - 148 ft) is a huge submerged rock where large sharks, black groupers, snappers, rock hinds and hawksbill turtles are often sighted. Corveta V 17 (63m - 207 ft), with the well preserved remains of a sunken naval ship, is considered one of the best wreck dives in the world. Marine life frequenting this site includes mahi mahi, tunny fish, manta rays, mackerel, eagle rays and sometimes even a whale shark. Advanced divers can explore the interior of the vessel. Snorkeling and diving are perfect aquatic activities in Noronha, even for beginners. The best levels for independent diving range from 8 to 60 meters deep and visibility is up to 30 meters of range. Schools of fish, rays, turtles, rocky formations, coral reefs and shipwrecks are visible in the region. There are several diving operators on the island who will provide equipment and training; we are happy to liaise with them for you.
If you love the idea of remote and isolated beaches even during peak season, Noronha is perfect for you. With a strict control on the number of visitors at any time, beaches in Noronha remain quiet all year round. Very few have beach bars or any kind of infrastructure – a scenario which many modern travelers crave for. We think some of the most beautiful beaches in Brazil are located here. Easily. Baia do Sancho is a unique reddish brown sandy beach which requires access by bolted iron ladders. Baia do Sueste is an amazing snorkeling spot ideal for kids due to its shallow waters. At any given day, only thirty people are allowed at the Praia do Atalaia. No sun tan lotion, please. Natural pools are the attraction here formed by the extension of volcanic rock shelf along shores. What about surfing? Praia da Conceição, Cacimba do Padre, Praia do Cachorro, Praia do Boldró, Praia do Meio, and Praia do Bode.
From November to April good swell waves can be found on beaches such as Laje, da Cacimba, Boldró, Ruro and Abrás, which are favorites and very popular with surfers from all over the world. National and international surfing championships also occur in Noronha during that period. If you prefer to sit back on the sand and just enjoy the beach, we highly recommend that too! In Noronha your time can be spent as actively or laid back as you choose.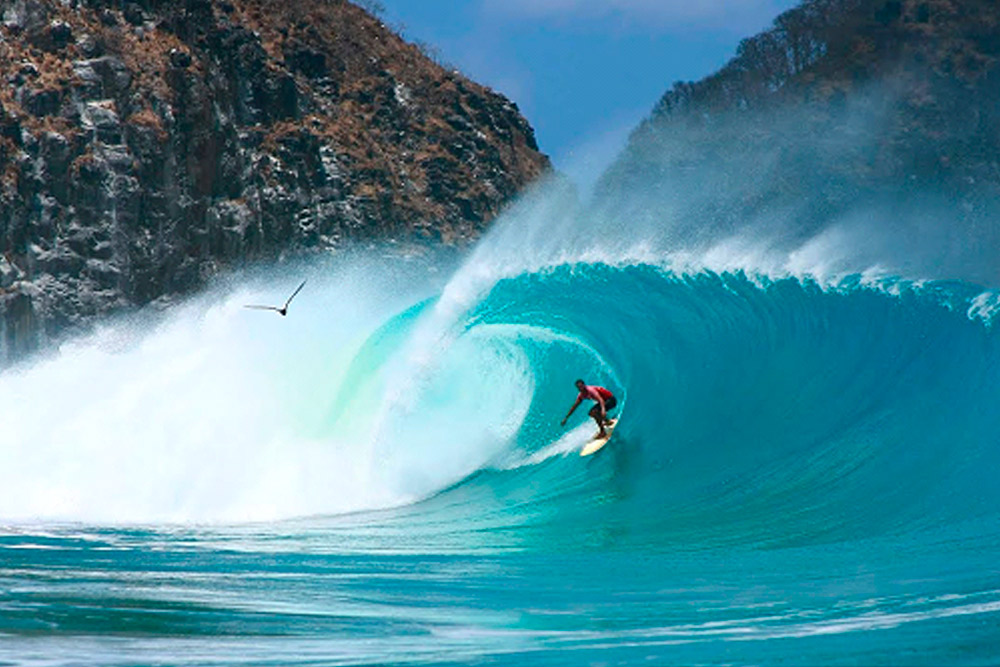 Best surf spots in Fernando de Noronha
The best and most famous surf spots are Cacimba do Padre, Abras, Praia da Conceição and Boldró.
The island of Noronha is a manageable destination for travelers to explore by buggy, with or without a guide. The highlight is that all the beaches are beautiful, without exception, the clear turquoise sea and the wilderness of each one is stunning. Some places are even more striking than others: Leão and the beaches on Sancho and dos Porcos bays are must do's; but don't miss the chance to visit the village known as Vila dos Remédios. Trekking is also a good way to venture around the island.
Feast your eyes with dolphins
Fernando de Noronha is home to the largest concentration of spinner dolphins in the world. The spinner dolphin is the most acrobatic of all dolphin species with incredible jumps out of the water. Practically all-year round, colonies of up to 2000 dolphins can be seen around the island close to sunset, so get on a boat and enjoy this marvelous sight.
Ideas can plan every step of your trip, allowing you to relish the tremendous adventures and wonderful sights of Brazil, knowing that Ideas will be taking care of all the details.