Best Luxury Hotel in Iguazu Falls: Awasi Lodge
OUR REVIEW
Awasi Iguazu is our preferred hotel option when visiting Iguazu Falls, situated within a private Atlantic Rainforest reserve in Misiones, Argentina, and a short 30-minute drive from the Iguazu National Park gate.
The 14 individual villas are nestled in lush jungle foliage, each featuring its own private plunge pool and sundeck.
Guests of Awasi Iguazu will have the exclusive service of a private guide and 4WD vehicle, offering complete flexibility to explore the region at their own pace and preferences.
Located within a vast private rainforest reserve, Awasi Iguazu is just a 20-minute drive from the Puerto Iguazu Airport and the Argentinian entrance to the Iguazu National Park. The park is home to the world-renowned Iguazu Falls, which consists of up to 275 cascades within a two-mile wide, horseshoe-shaped curve, and the magnificent La Garganta del Diablo, or "The Devil's Throat," where the Iguazu River plunges 240 feet.
In addition to the falls, the park boasts over 2,000 species of plants and a diverse range of wildlife, including howler monkeys, jaguars, and giant anteaters.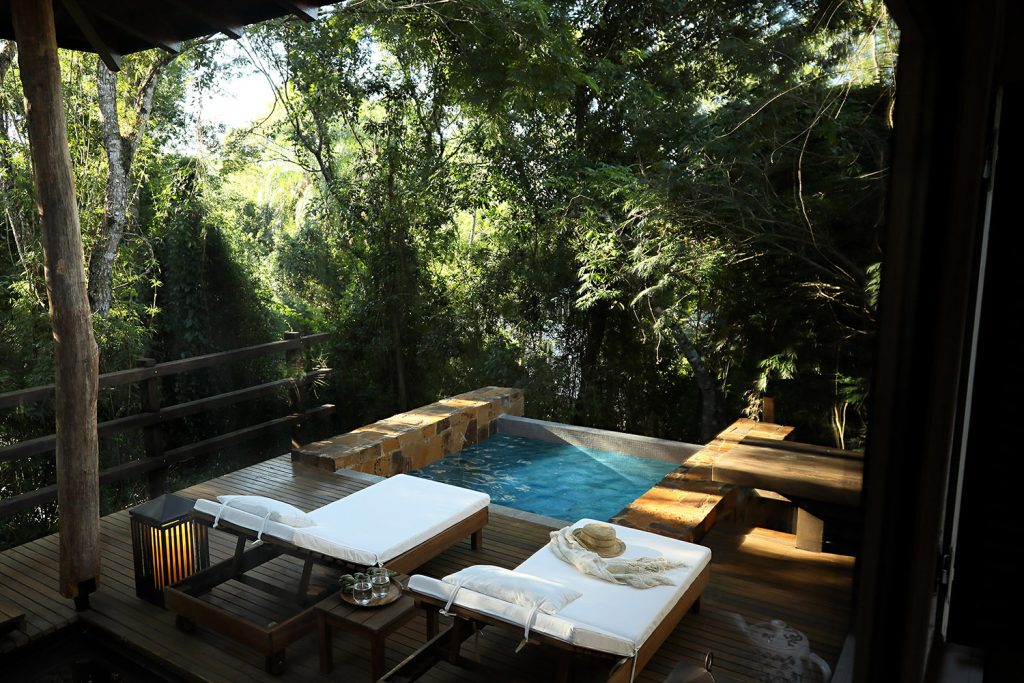 AWASI IGUAZU ACCOMMODATIONS
Nestled within the dense rainforest, Awasi Iguazu's 14 villas – 13 standard and 1 master villa – offer a secluded escape surrounded by nature. The villas are thoughtfully designed to minimize environmental impact and are elevated on stilts, providing a unique perspective on the surrounding jungle.
The interior of each villa is adorned with traditional baskets handcrafted by the indigenous Guarani people, adding to the authentic experience. Guests can enjoy the comfort of a well-equipped villa including a mini-bar, bathtub, robes, slippers, ambient-temperature plunge pool, sundeck, and Wi-Fi. For those seeking extra relaxation, in-room massages can be arranged for an additional fee.

Standard Villas
Measuring 1,076 square feet, each of the 13 standard villas has a coffee corner and large living room, as well as a large deck, lounge chairs and a plunge pool. These villas are primarily designed for couples or two friends.

Master Villa
Measuring 1,614 square feet, this exclusive master villa has a spacious living area and a larger plunge pool allowing plenty of space for two couples or families.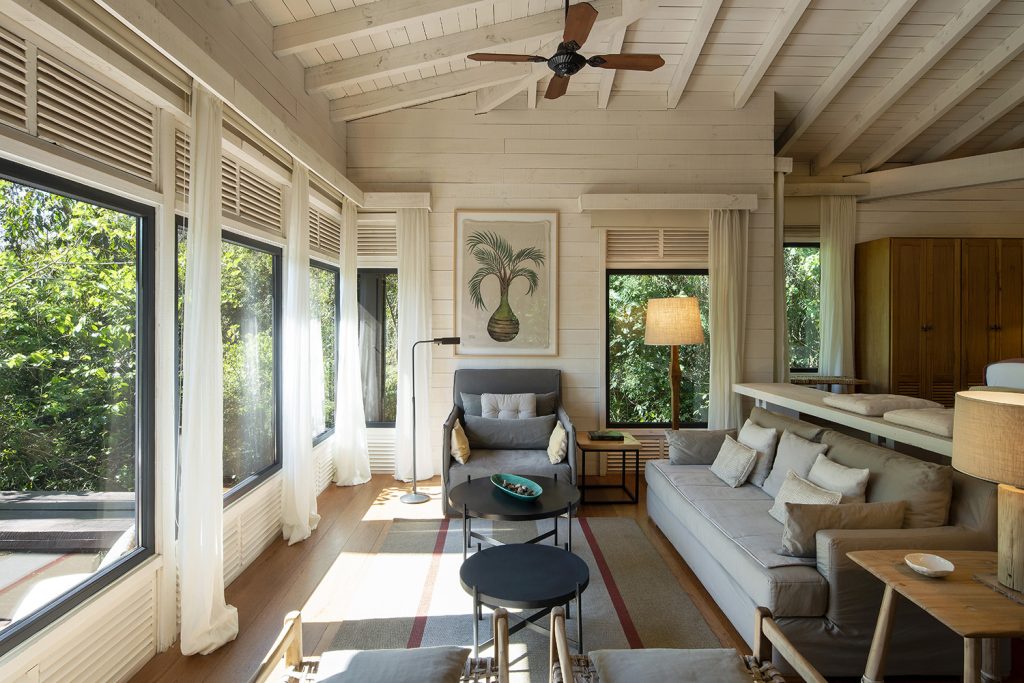 At Awasi Iguazu, Chef Aarón Castillo Tellería creates dishes that are bursting with flavor, using fresh, seasonal ingredients, local inspiration, and vegetables sourced from the on-site kitchen garden. The cuisine is a delightful blend of sophistication and simplicity, with each meal tailored to meet the specific dietary requirements and preferences of guests.
Awasi Iguazu has collaborated with renowned biologists to curate a selection of adventures that extend beyond the falls. From its topography to its past, the Misiones Province is a blend of diversity.
The Iguazu Falls are situated in the Atlantic rainforest, which is home to over 400 bird species. Orchids, ferns, tapirs, monkeys, and pumas are all unique to the rainforest. Jungle trail hiking, visiting crystal pools, exploring archaeological ruins, and observing local Guarani people practicing ancient artisan crafts are some of the rainforest excursions available.
Private guided tours that are customized to your interests are also included. You'll meet with your guides when you arrive to select your excursions. You can choose between one full-day excursion (lasting approximately 6 to 8 hours) or two half-day excursions (lasting 2 to 4 hours) per day.
Airport transfers to either airport (IGR or IGU) are also included. Entry visas for Brazil must be obtained in advance.
If you are interested in staying at Awasi Iguazu, Landed offers personalized and customized travel services for Central America, South America, and the Antarctic. We specialize in creating unique itineraries that are tailored to your interests and preferences, ensuring that you experience the trip of a lifetime.