What is San Antonio de Areco?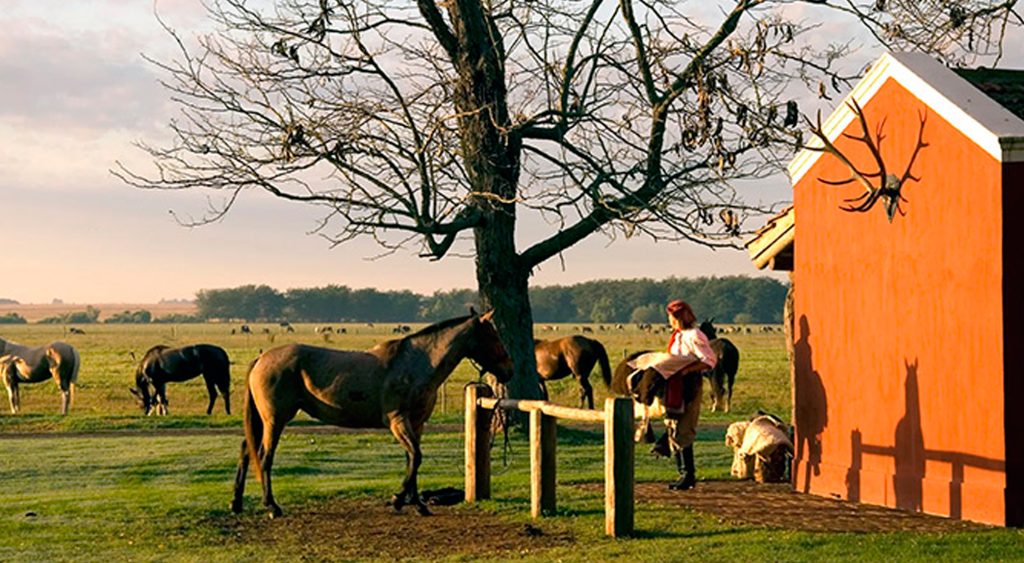 Many people wonder what there is to do in San Antonio de Areco. This small town, less than two hours from Buenos Aires, is the ultimate destination for all things gaucho, history, and rural Argentine culture.

It's also one of the most popular day trips from Buenos Aires.

San Antonio de Areco is nearly 70 miles northwest of the Argentine Pampas Region. It's a great 1½-hour day trip by car from Buenos Aires—or the perfect jumping-off point for those who choose to visit at a nearby estancia, or a traditional large rural ranch and estate.

The town's only real sights are a couple of museums, the most important of which is the Museo Gauchesco Ricardo Güiraldes. But what really makes Areco memorable is the harmonious architectural character of the town's centre: all cobbled streets and faded Italianate and colonial facades punctuated by elaborate wrought-iron grilles and delicately arching lamps. There are also some excellent artisans working in the town in talleres (workshops). Weaving and leatherwork are well represented, but the silversmiths are the highlight.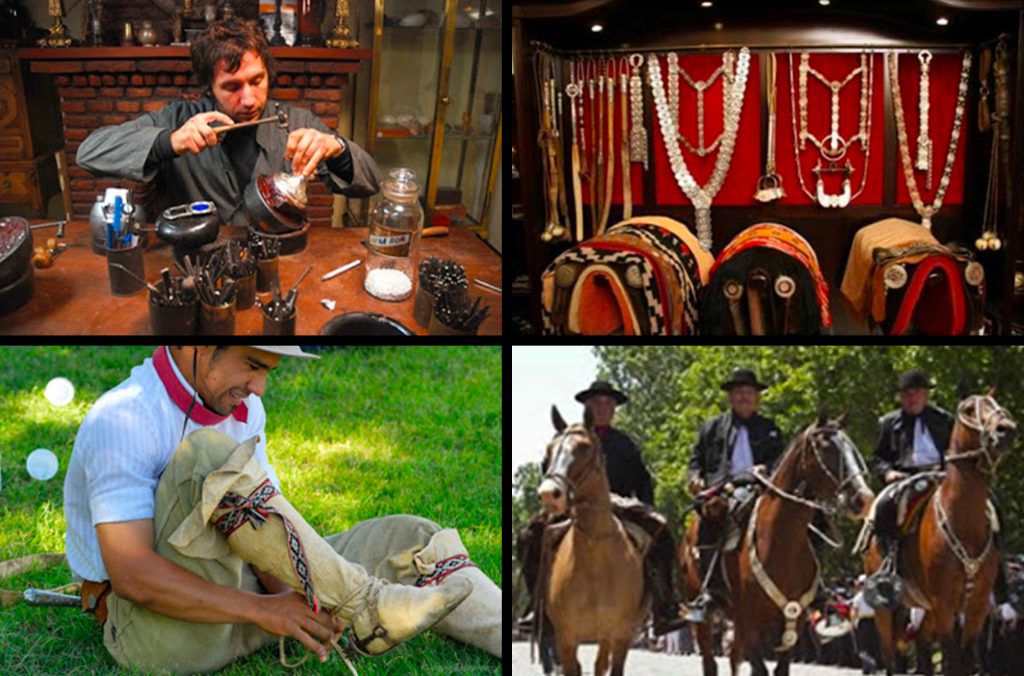 The must-visit place is Centro Cultural y Taller Draghi, named for the famed silversmith Juan José Draghi, who called both President Bushes and Ronald Reagan clients. The museum is dedicated to the man who revived silversmithing in Argentina. You should see the historic collection of astonishingly detailed belt buckles, knives and containers for making yerba mate tea.

Of their work bench, silver pieces and gold are born; trails, knives and matés are used by neighbors of san Antonio de Areco, it glimpsed a personal, new and different style. This fact doesn't escape to visitors that arrive to the district of Areco: who begin to converge assiduously to their shop with special orders: candlesticks, marks, alhajeros, pitchers, cutleries, machetes ( gaucho knives) etc.
The machete (or gaucho knife) is a tool made by former gauchos , native to the pampas. Besides being a cutting element as a working tool , it is used to kill animals and remove the skin of the animals,=make thongs and leather working and woodworking used by the gaucho in their crafts. He has also developed as a weapon of self-defense style for protection in such Pampa regions. Along with his poncho and his horse form the best alliance to fend off possible attacks , using it as their own very particular laws and philosophies as in some Western martial arts.
San Antonio de Areco, the national capital of gaucho traditions, hosts the annual Fiesta de la Tradición, the country's most important festival celebrating pampas culture. Despite its modest promotion as a tourist destination, playing on its appealing setting by the banks of the tranquil Río Areco, the town has retained a surprisingly genuine feel. You may not find Areco full of galloping gauchos outside festival week, but you still have a good chance of spotting estancia workers on horseback, sporting traditional berets and rakishly knotted scarves, or of coming across paisanos propping up the bar of a traditional boliche establishment.
Annual Tradition Day Festivities in Areco
The festival, during which gauchos who still actually work in the fields and those who have desk jobs but keep their skills (and knives) sharp in their spare time, participate in parades, giant cookouts and demonstrations of horse-riding skills.
Areco has a prestigious literary connection: the town was the setting for Ricardo Güiraldes' Argentine classic Don Segundo Sombra (1926), a novel that was influential in changing the image of the gaucho from that of an undesirable outlaw to a symbol of national values.
Famous Gaucho: Don Segundo Sombra

Just behind Fierro in terms of recognition and fame is Don Segundo Sombra, a fictional character and protagonist of one of Ricardo Güiraldes' novels written in 1929. Don Segundo has a mythical aura around him and represents in many ways the ideal gaucho as seen by those in search of symbols of Argentine national identity at the start of the 20th century. He is strong, elegant and honest but as his name indicates he has a sombre, lonesome side to him.
The gaucho is a legendary figure of Argentine society, a rebel reminiscent of 'Che'. His elegance is supposedly inherited from the Spanish conquistadores and his freedom is intrinsically linked to the symbol of the country's pampas.
Gauchos, the Argentine version of the cowboy, had their heyday in the 19th and early 20th centuries, but much of the culture, from horseback riding to silversmithing to bringing your own knife to dinner, still survives and stirs national pride.  His elegance is supposedly inherited from the Spanish conquistadores and his freedom is intrinsically linked to the symbol of the country's pampa.
In 1866, an English rancher by the name of Wilfred Latham wrote: "I cannot conceive of anything more exhilarating than a gallop across the plains…. a cloudless sky of deep azure, an atmosphere marvelously light and pure communicating a sense of indescribable buoyancy and pleasurable existence – a soft breeze flowing, as it were, over the vast plain, boundless as an ocean – contribute to engender an irresistible feeling of joy."
It takes the name of Ricardo Güiraldes to honor the novel Don Segundo Sombra, published in 1926. Definitely worth a visit – recommend a guided tour as it is very interesting to find out some of the stories behind the artefacts. Entry is free. Everything related to the life and work of this remarkable writer is on display there. Visitors will learn about the life, customs and routine of the countryside people from their origins until today.
The "pulperia" (grocery store) was until the early twentieth century the typical commercial establishment of the various regions of Latin finding widespread from Central America to the southern cone countries. Its origin dates back to the XVI century, and provided everything then was indispensable for everyday life: food, beverages, candles (candles or candles), coal, medicines, textiles and others.
It was also the social center of the humble and middle classes of the population, there characters typical of each region would gather to talk and see what's new. The "pulperias" were places where you could drink alcohol, cockfights were held, were playing dice, card games, etc..
The main square has La Esquina de Merti on a corner and this is a pulperia (a former grocery and bar) that has been converted into a restaurant, but with all the old, genuine interior and items from its former function. There is seating outside and inside, but eat inside to appreciate the full experience. We highly recommend baked meat empanadas and a "picada".
Picadas, which are consumed at home or in bars, cafés, "cafetines" and "bodegones" are also popular; they consist of an ensemble of plates containing cubes of cheese (typically from Mar del Plata or Chubut), pieces of salame, olives in brine, french fries, maníes (peanuts), etc.; picadas are eaten accompanied by an alcoholic beverage ("fernet", beer, wine with soda, to give some common examples).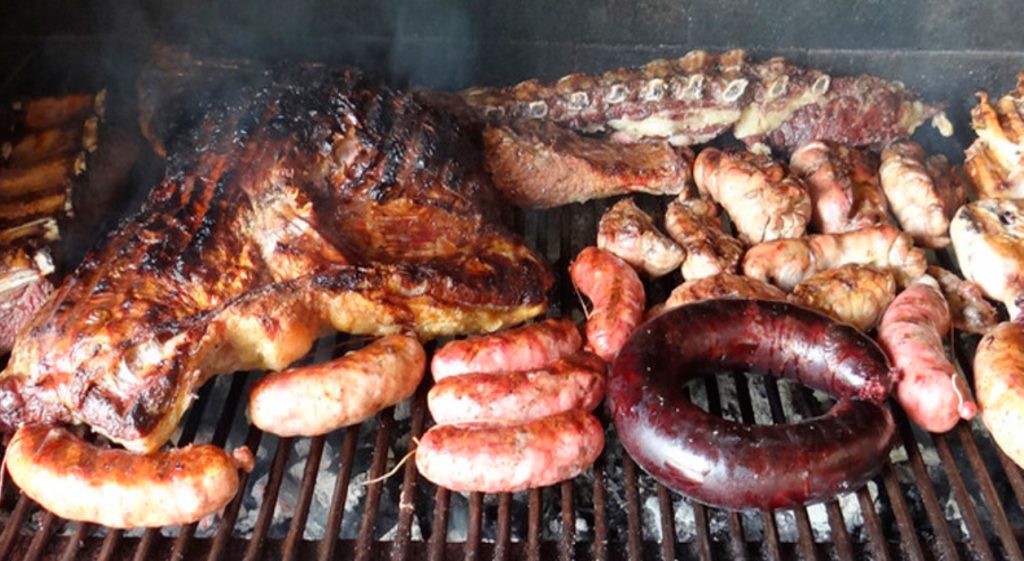 In San Antonio de Areco we invite you to discover:
Almacén Los Principios (Moreno y Mitre)
Bar San Martin (Moreno y Alvear)
 Boliche de Bessonart (Segundo Sombra y Zapiola)
 El Mitre (Mitre y Alsina)
 La Vuelta de Gato (Camino R. Güiraldes, frente al museo)
El Tokio (Mitre y Arellano)
La Esquina de Merti (Arellano y Mitre)
 La Pulperia de Areco (Bolivar 66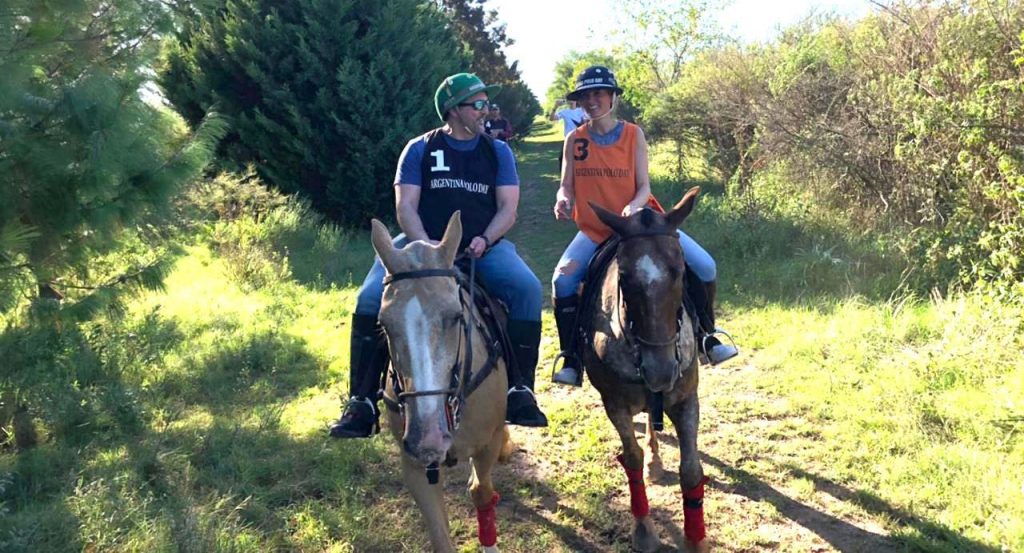 Areco's traditional gaucho atmosphere extends to the surrounding area, where you will find some of Argentina's most famous estancias, offering a luxurious accommodation alternative to staying in Areco itself.