Best Atacama Desert luxury hotels: a review of San Pedro de Atacama's top lodges
A couple of years ago, the Atacama Desert was an unknown destination for many travelers. Accessible only to backpackers and the most adventurous explorers, this unique place, a desert between the Pacific Ocean and the Andes mountains, was a hidden gem. It is full of oases where it bursts, both in the fertile river valleys and in the semi-arid Altiplano thousands of meters above sea level. Add to the mix the tallest volcano on the planet, the tallest geysers, the oldest mummies, and the clearest skies, you have a recipe for an epic adventure. Its growing popularity among the world's most discerning travelers stems from the arrival of luxury accommodations in the area that offer a combination of world-class comfort and active adventure.
While you can't go wrong at any of the high-end hotels reviewed here (Explora, Tierra, Awasi and Alto), people often ask me which one is the best. It is not the same if you travel as a couple, if you travel as a family or if you travel alone exploring the region. Each hotel has its characteristics, facilities and program that make it attractive for those who travel as a family or as a couple. Read on to learn the differences between the best luxury accommodations in the Atacama Desert in Chile.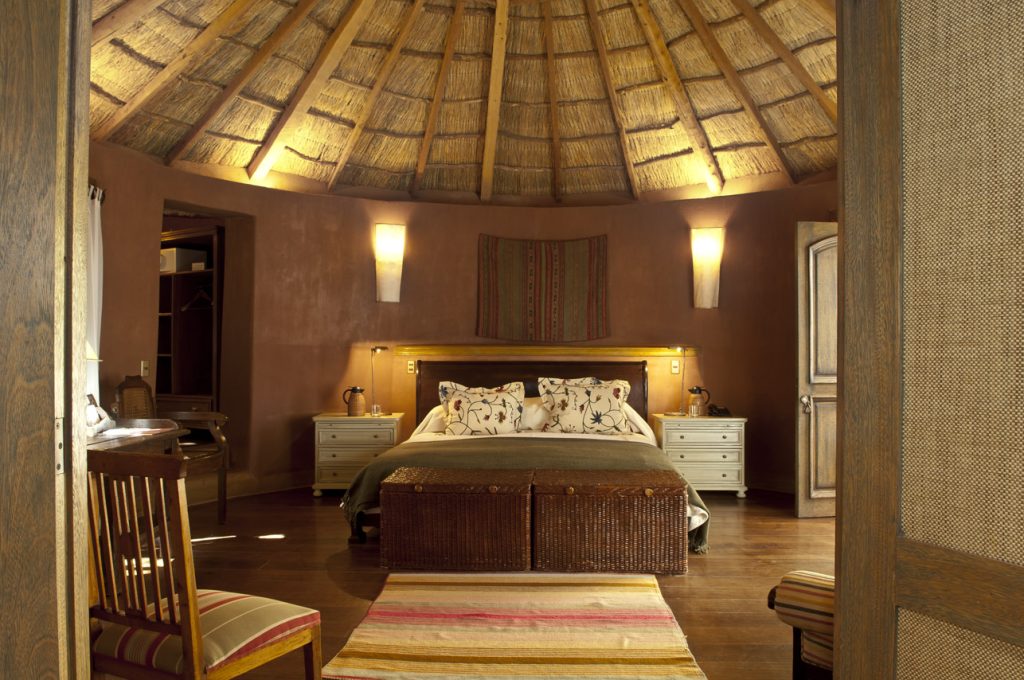 AWASI: A LUXURY HOTEL WITH PRIVATE EXPLORATIONS AND BEST CUISINE
Awasi is a collection of three small luxury lodges that offer all-inclusive private programs in South America's most iconic destinations ( Awasi Atacama desert, Awasi Iguazu falls  and Awasi Patagonia in Torres del Paine). Rather than having large facilities and common areas, they have gone for privacy and intimacy as their driving attributes.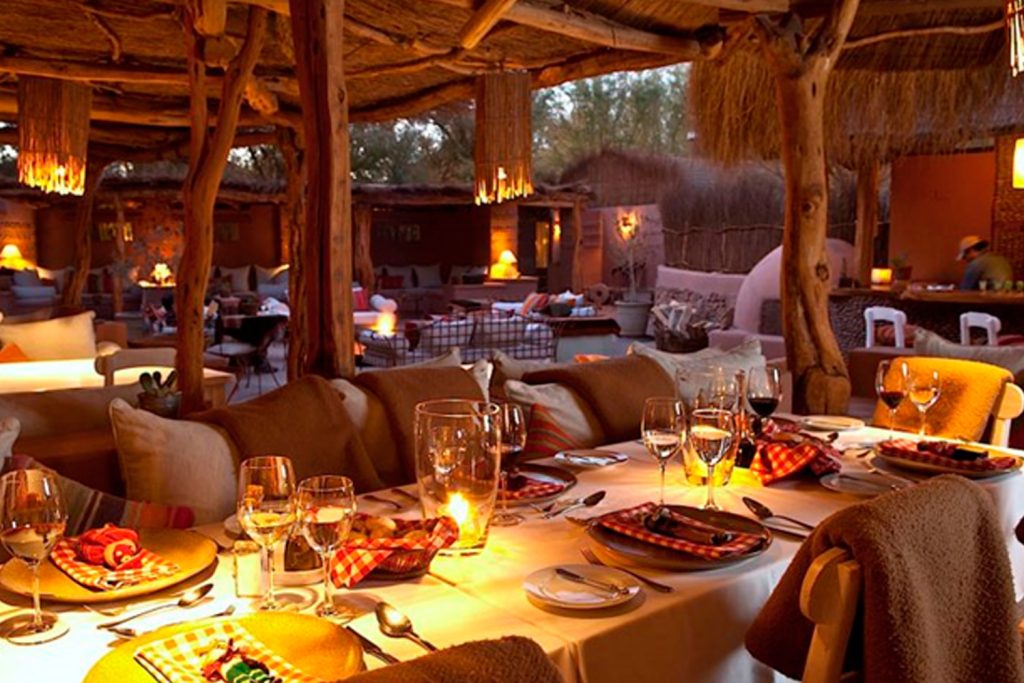 What makes Awasi Atacama different from other hotels in Atacama?
Small luxury lodge with just 12 rooms
Private guide and 4WD for each room
Located in the village of San Pedro Atacama
Best chef – Relais & Chateaux-quality cuisine
An exclusive experience with a focus on privacy and solitude

Awasi Atacama is located in the heart of charming San Pedro de Atacama town and it is a small property with just 12 rooms made in the local adobe fashion and with all the comforts and pleasures of a five-star experience. One private guide and a 4WD are assigned to each room, resulting in tailor-made excursions.

Having a private guide and vehicle during your stay allow guests to build your trip excursions around your interests. No matter which excursions you choose, having a private guide allows you to experience the area at your own pace – you never have to worry about slowing others down or wishing things would speed up in a group setting. Plus, San Pedro de Atacama sits in high altitude with many excursions taking you higher, so a private vehicle can whisk guests back to the hotel at a moment's notice if the altitude is taking its toll.
Bear in mind that the hotel offers free WiFi in the main building only. The therapists offer massages, reiki and other treatments at the hotel but there is no Spa.
As a Relais and Chateaux hotel, it should come as no surprise that the cuisine is really fabulous. Meals are served in a beautifully-designed indoor/outdoor space that feels exceedingly private and plush.It definitely offers a more private and quiet experience and so would suit those that are after these elements on their trip.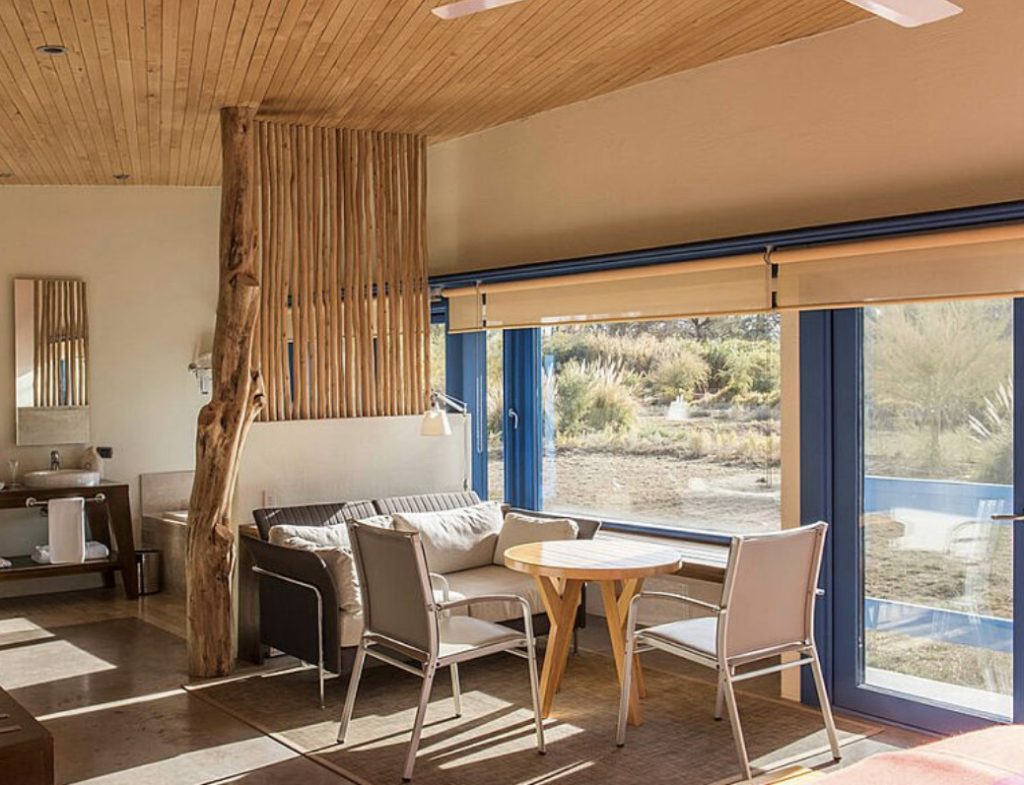 If you are thinking of traveling the last two weeks of December, we strongly recommend booking a year in advance. Awasi fills up far in advance, so it's never too early to talk to our trip specialists   about a trip to this ultra-luxurious setting.
EXPLORA ATACAMA: HOTEL WITH A WIDE RANGE OF CAREFULLY DESIGNED EXPLORATIONS
Explora lodge in Atacama is an all-inclusive lodge. It is located near San Pedro de Atacama, on the beautiful Ayllu de Larache, once inhabited by ancient Atacameño families. Because of their early investment in the area, Explora offers crafted excursions that are completely exclusive to their guests. The company owns the Puritama Hot Springs, for example, giving guests access to their own pool, and can take trekkers into otherwise off-limits areas in the Moon Valley (two of the region's top attractions). And for high-altitude treks up the side of volcanoes, Explora is the only way to go.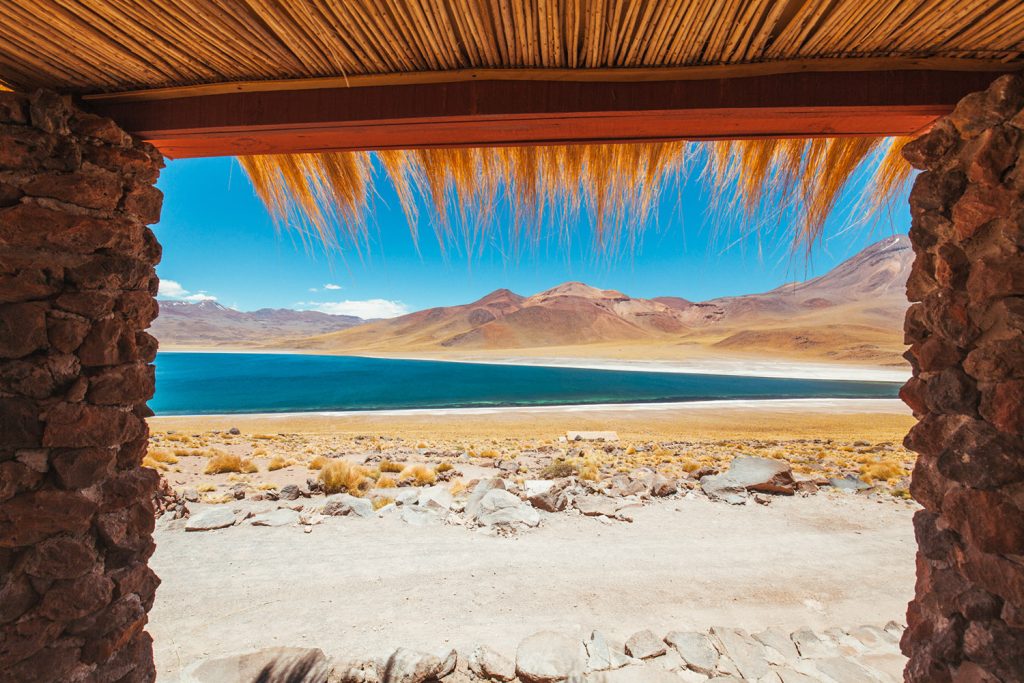 What makes Explora Atacama different from other hotels in Atacama?
Exclusive excursions to Puritama Hot Springs, Moon Valley, and Tatio Geyser
Best choice for horseback riding (only lodge with their own stables)
Widest range of crafted tours (trekking, horseback riding, biking, drives)
Exceptional service and highly trained guides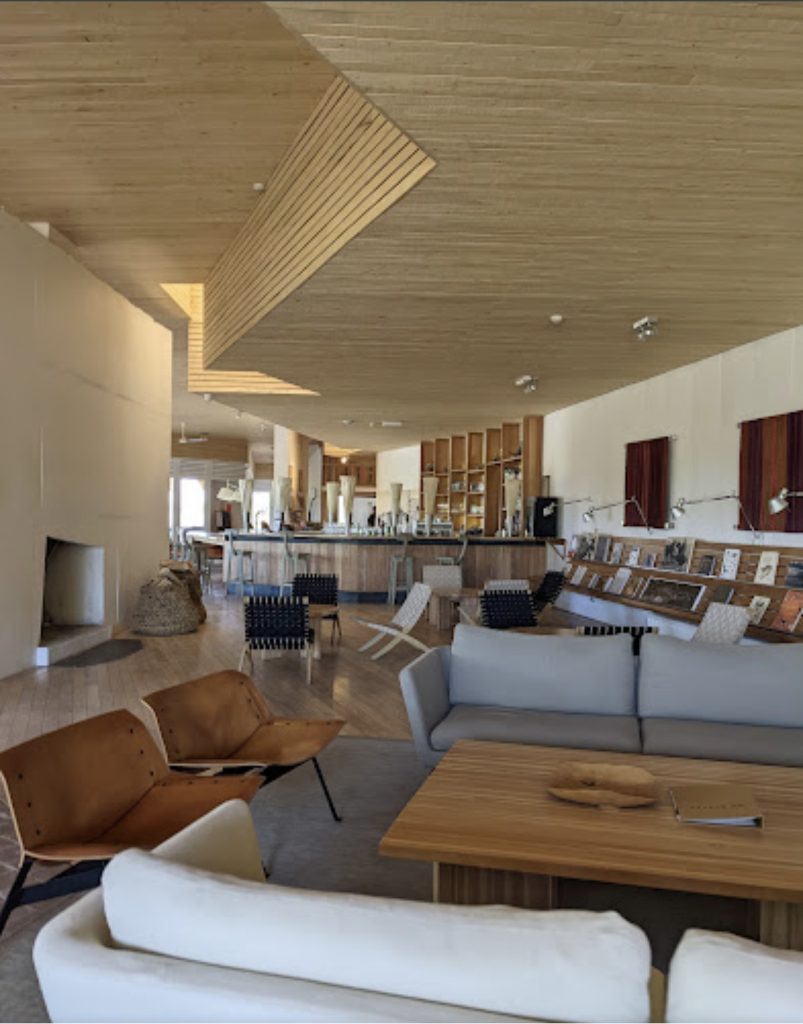 talk to our trip specialists for more details, and be sure to ask about the special offers for honeymooners and multi-destination travelers if either those sound like you.
ALTO ATACAMA: BEST HOTEL FOR STARGAZING
Alto Atacama is a little further out of town than other properties in the area, 2 miles or a 10-minute drive from San Pedro de Atacama and very close to the Pukara de Quitor, a pre-Inca fortress. Settled in a quiet valley, surrounded by terracotta-colored mountains, it has been built with local materials to blend in with its natural environment and the typical Atacameño construction style.
What makes ALTO Atacama different from other hotels in Atacama?
Best hotel for stargazing – unique observatory experience + personal terraces for private viewing
Great for history lovers and those looking to learn more about the region
Unique location near archeological ruins and the Cordillera de la Sal mountain range
All of the hotel's 42 rooms come with a private terrace.
Spa with 6 open-air swimming pools, indoor and outdoor jacuzzi, sauna and steam bath.
Restaurant serves a changing menu prepared with organic locally sourced ingredients
His excursions are designed to take you through the extensive history of the Atacama region, beginning with the oldest ruins and rock formations. Its spa is also a welcoming oasis, and a new "spa excursion" is popular with guests looking to spend a day on the grounds.
If you are drawn to the desert for the crystal clear night skies, Alto is the place to be. the lodge has an observatory where you can gaze at the stars on revolving loungers while enjoying a hot drink. Your on-site astronomer will give you a guided tour of the Milky Way, and Alto's purpose-built property ensures near-zero light pollution.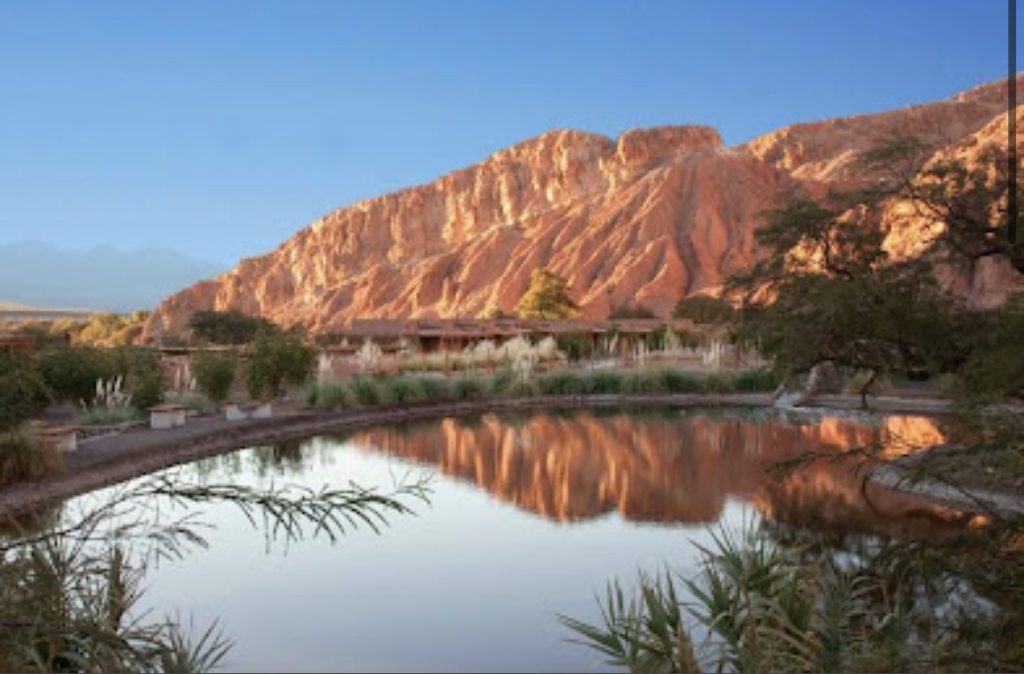 HOTEL WITH BEST SPA: TIERRA ATACAMA
With so many great hotels up in this region of Chile, it is difficult to pick an out and out winner as each offer something different.
Tierra Atacama is a lodge recognized for its spa facilities and services. It has a heated indoor pool in addition to its outdoor pool and Jacuzzi, and spa treatments that use local elements such as volcanic mud, desert herbs, and lithium-rich salts. The spa and pool are excellent options after a long day of trekking or horseback riding. It also has many facial and body treatments that can be reserved in advance.
What makes ALTO Atacama different from other hotels in Atacama?
Best spa and widest range of spa services
Beautiful views of Licancabur volcano
Yoga classes on an outdoor platform
Outdoor fire pits and plenty of places to lounge
Another Tierra highlight is the view: Many of the rooms and common areas face a stellar view of Licancabur, the most impressive volcano in the region. The interior common spaces have a modern aesthetic but are smaller and less spacious than Explora's, so if you're visiting Chile during the winter months (June to August) it may feel a bit cramped due to Tierra's popularity.
Tierra also has a great variety of local wines, and the chefs are experts at integrating local ingredients (some straight from Tierra's gardens) into the kitchen.
Like Explora, Tierra will sometimes include up to two nights free in Santiago if you're making your way to one or more of their lodges, which can help take some of the stress off the timeline and budget. You can get even more value if you visit more than one Tierra location—they're the only lodge with a location in Chiloe, a lush contrast to the Atacama Desert. If you're traveling as a family, two apartments on the property are perfect for groups looking to sprawl in their own space.
Since the lodge fills up fast, it's best to check on availability with one of our trip specialists.