Best things to do with Kids in Puerto Madryn, Patagonia
Puerto Madryn is a major wildlife destination in Argentina. A mid-sized town, located on the east coast, in the province of Chubut – in the heart of Patagonia – this is one of the best places to visit in the country with kids.

At any time of the year you can find a lot of family-friendly attractions and activities. Besides seeing animals such as seals, penguins and southern right whales, you can practice outdoor sports such as kayaking, snorkeling or mountain biking. Here below you will find our favorite activities to do in Puerto Madryn: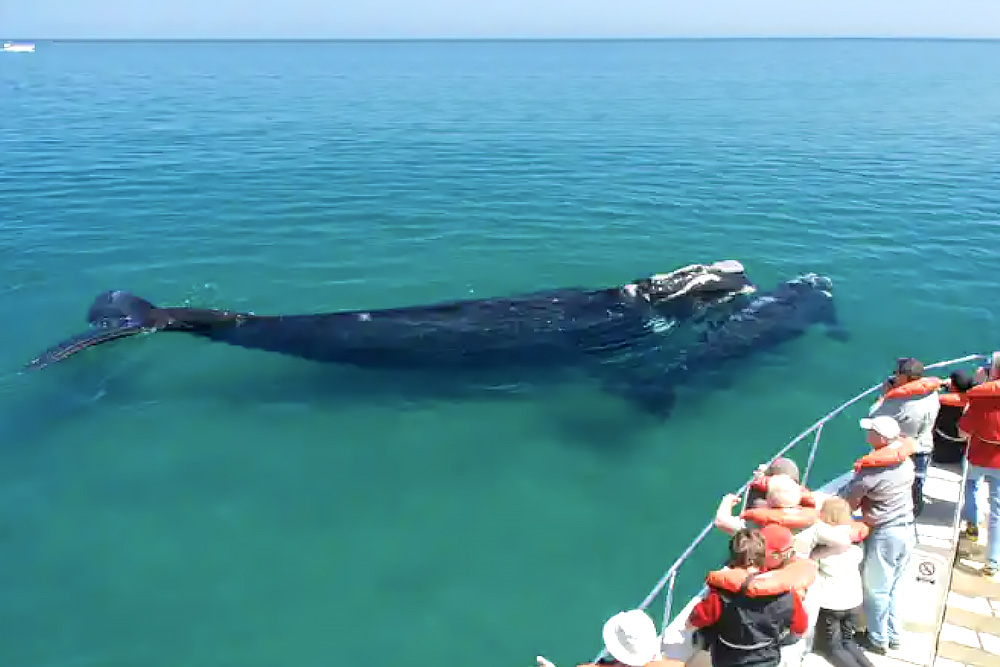 Take an exceptional Whale Watching Tour – Once-in-a-lifetime experience!
*Whales are present from June to early December only.

The waters around Puerto Madryn, and in particular around Peninsula Valdes, are one of the best places in South America to witness this spectacular species up close. From May to December southern right whales ply the coast off of Patagonia, on their annual migration to breed and calve.

It's entirely possible to see the whales from the beach, with hundreds of them coming into the bays. But for a real fascinating opportunity, head out on a whale watching tour, which is by far the most popular of all the things to do in Puerto Madryn.

Floating out at sea the southern right whales often breach and play right next to the boat, offering a sensational chance to see these 50-tonne creatures like never before.

Southern right whales are present from June to December only. You can expect pretty much guaranteed sightings during August, September and October.

Orcas are present along the coast all year round. However, they are most commonly seen beaching in March and April, when the sea lion pups are just beginning to explore their surroundings and are at their most vulnerable.
Go Walking With Penguins in their natural habitat – A must visit!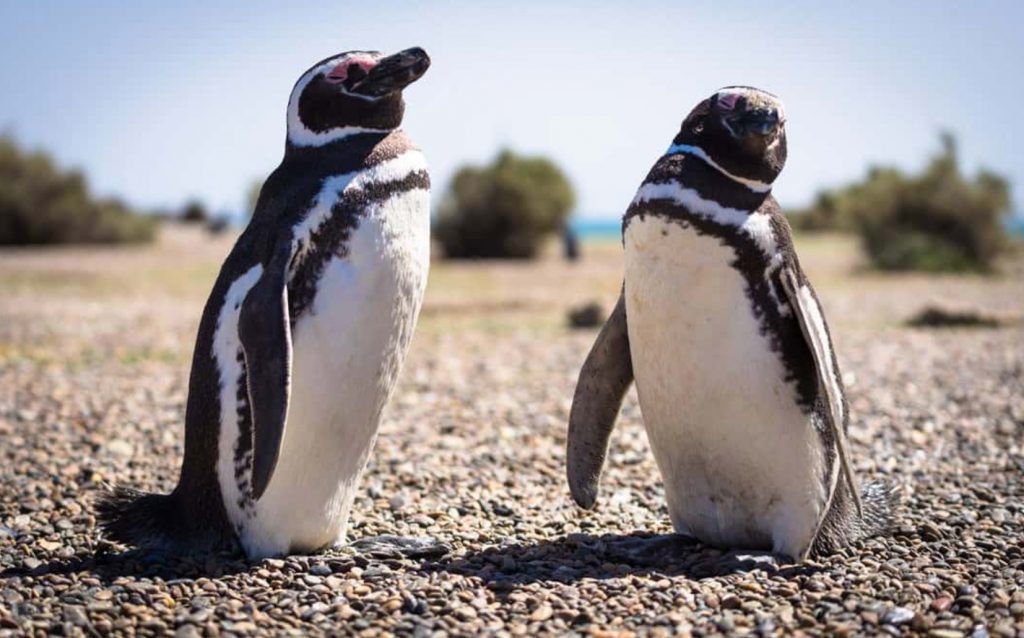 This could just be one of the cutest things to do in Puerto Madryn. Actually, this could just be one of the cutest things to do ever!

The area around Puerto Madryn is home to huge colonies of Magellanic penguins, with the largest being in Punta Tombo*, and another popular spot being at Punta Norte in Peninsula Valdes. In these two places you can walk amongst hundreds of Magellanic penguins, following a marked path down to the beaches. The penguins wander freely, so you need to be careful not to step on any of their nests or get in their way. Just be sure not to touch them, or harass them in any way.

*Between September and April, a large number of Magellanic penguins come to Punta Tombo to incubate their eggs and prepare their offspring for migration - the largest such colony in South America. Couples stand in front of their nests, protecting the eggs from birds and other predators, and occasionally one adult goes to the sea for food. What makes this such a unique experience is that you can get incredibly close to the penguins. They aren't shy at all, so you can get right up to them for photos.

Other wildlife encountered in the area includes sea birds (mainly seagulls, chimangos and cormorants), rheas and guanacos.

We organize day tours to Punta Tombo and Punta Norte from Trelew and Puerto Madryn. Our engaging and knowledgeable guides will lead an unforgettable tour and share very interesting facts and information about wildlife in this region of Patagonia.
Snorkeling With Sea Lions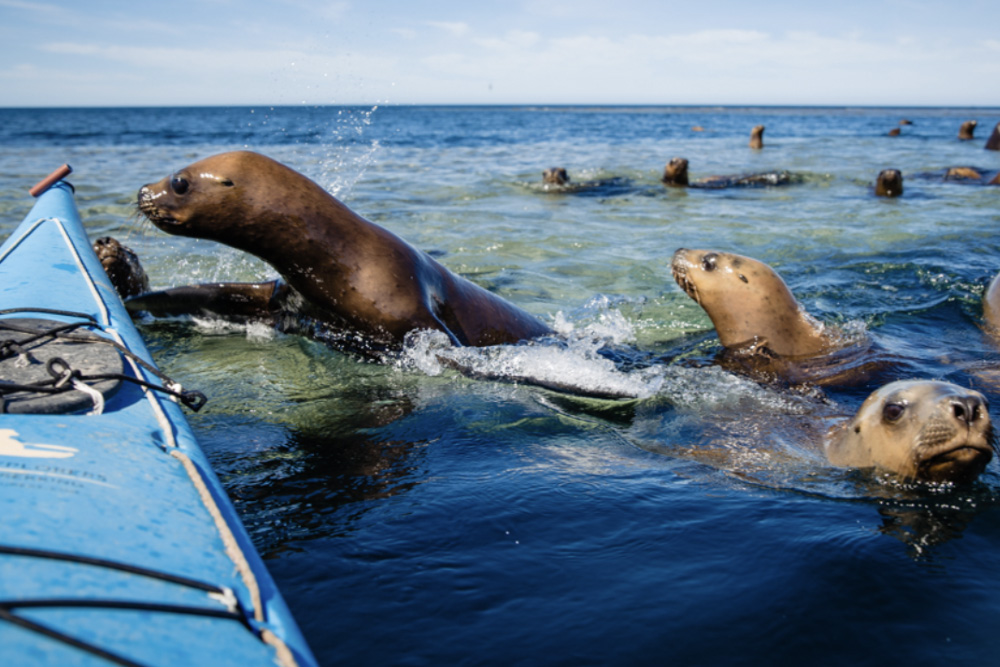 Just a short boat ride away from downtown Puerto Madryn is Punta Loma, which is home to a stable population of 600 sea lions. Unlike other places in the world, these sea lions are always present in Punta Loma as they are protected from threats such orcas (which also patrol the waters near Puerto Madryn). This means that visiting the sea lions is possible 365 days a year. It's one of the popular Puerto Madryn attractions among animal lovers.

For 45 minutes you can snorkel around while the sea lions dive and jump around you . Being this close to them in their natural environment is truly incredible.

There's also no need to be scared, because while the sea lions can be a bit aggressive on land, they are perfectly placid and curious in the ocean. They will come right up to your cameras, dance around you and even brush up against your bodies.

Snorkeling with sea lions in Puerto Madryn is something you'll never forget. It's also possible to go diving with them, but check what visibility and sea conditions are like before booking this.
Nature on two wheels – A guided Mountain bike tour in Patagonia
This bike tour is a combination of adventure, physical activity and contact with nature. Going along paths in the Patagonian steppe and ride along the ocean front it is an amazing experience at any age. Together with your local guide, you will ride unconventional roads, go up and down gullies, interpret intertidal areas, follow country footprints, interpret local flora, reach a panoramic view in "Avanzado Mountain", ride along gullies, watch and interpret marine fossils, have a snack and visit the Provincial Reserve Punta Loma (where you will stop to watch sea lions on the beach).
Sea Kayaking & Canoeing with Sea Lions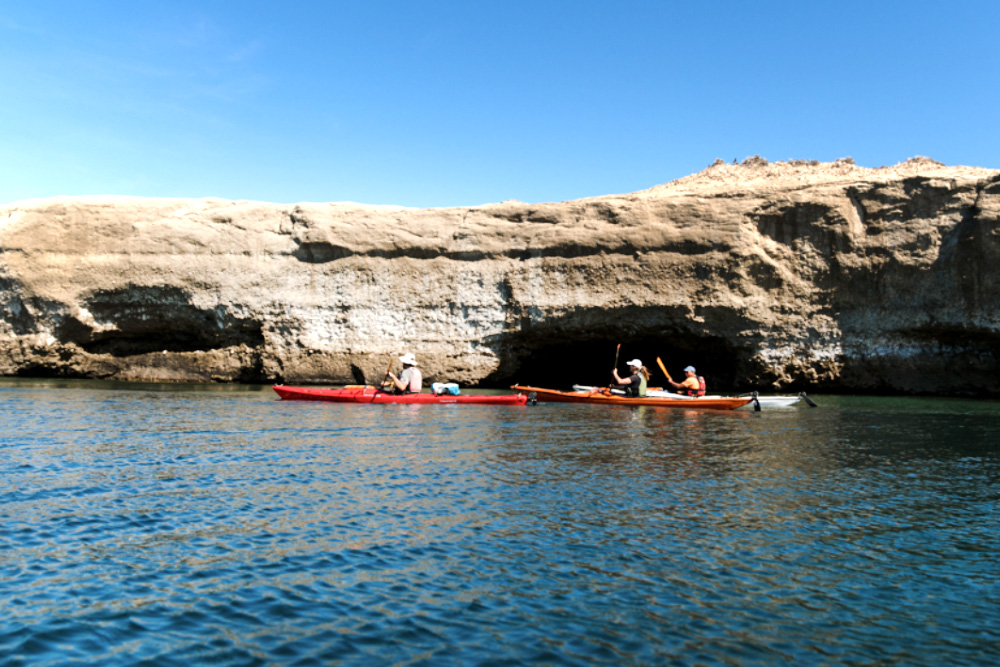 Kayaking with sea lions in Puerto Piramides will be one of the highlights for you during your trip to Patagonia. There are half day and full day tours. Groups are kept small to offer personalized attention, safety and minimize the impact on the environment. Specialized guides run each trip, enabling one to fully take advantage of the tour.
Chill out by the gorgeous beach, relax in the retro cafes or simply use it as a base for all your marine life excursions – The famous Punta Norte located only one hour away. The best thing about Puerto Piramides is the southern right whales that come into the bay, meaning you can launch off on any number of boat tours, or even spot them from your balcony! If you have time on your way out there, stop by the museum on the road to Puerto Madryn to see a fossil of a southern right whale, and the skull of an orca. It's definitely one of the things to see in Puerto Madryn.
Puerto Madryn has a long, sprawling beach and a very pleasant place to hang out. In the afternoons you can find crowds of people playing football on the sand, families relaxing and everyone more or less just enjoying the sunshine.

When the wind is up (which is often) you can even go windsurfing or kitesurfing. Rentals are available at a number of places. If you're looking for the best free things to do in Puerto Madryn, this is right up there!
Walk along the Coastal Walk in Puerto Madryn
Puerto Madryn Coastal Walk is a 5.5 mile trail which offers scenic views and is good for all skill levels. The trail offers a number of activity options.
Do a Dolphin Watching Tour
While you're falling in love with all the marine life around Puerto Madryn, make sure you head out to see the local Commerson's dolphin population near Puerto Rawson.

These beautiful dolphins have distinct black and white colorings, which has also earned them the nickname, 'panda dolphins'. They can only be found in this part of the world, and an 1984 survey estimated there were about 3400 of them.

Going out on a whale watching tour in Puerto Rawson allows you to see these small, extremely agile mammals playing around in the boat's wake. These tours usually last for around an hour, and the guide onboard will give heaps of information about these rare dolphins.
Visit a charming Welsh Village in Distant Patagonia
Back in the late 1800s a group of Welsh immigrants moved to Patagonia and setup a small community just south of the largest city in the province, Trelew. Bringing their language and culture with them, they built up the small village of Gaiman to have a population of nearly 6,000 people, and today they still maintain a lot of their distinct values.

Today you can visit Gaiman and marvel at this fascinating little Welsh village. The streets are pleasant and there's a distinct architecture that is unseen in other parts of the country. It's one of the best places to visit in Puerto Madryn!

If you're hungry and up for a real Welsh experience, drop into Ty Gwyn. This vintage tea house serves up an elaborate Welsh tea service with huge platters of cakes, breads, jams and tea for a set price and one portion could easily be enough for two people. It is truly a special experience.
Argentina's SCUBA Diving Capital
While staying at Puerto Madryn, Mecca of Argentinian SCUBA diving due to the wide range of proposals and quality of service offered, we did not hesitate to dive into the crystal-clear waters and discover a new submarine paradise. There are multiple and varied sites for diving, as well as a large number of operators organizing this activity. It is difficult to describe the feeling of diving in low temperature waters.

Everything is slower and brighter; the algae are greener and everything is translated into so much peace and harmony that it is hard to leave this place.
Have a Dino Family Adventure in Trelew
Patagonia is home to some of the most remarkable dinosaur fossils discovered, and the best place to see them all is at the Museum of Paleontology Egidio Feruglio.

The MEF concentrates the most important fossil findings in Patagonia. This museum is a great place to introduce kids to Patagonia's giants. Recently the largest dinosaur ever discovered was found just outside of Trelew, and depending on the timing of your visit you can see the exhibition here in the museum. (The new dinosaur is a type of sauropod similar to Argentinosaurus also found in Patagonia in the neighboring province of Neuquen). Also, Kids can look into a real lab used for analyzing fossils, to get an idea of the technical side of work done by paleontologists.
We highly recommend 4 days-3 nights in Puerto Madryn to cover all the highlights and once-in-a-lifetime experiences in this region of Patagonia. There are daily direct flights from Buenos Aires city to Trelew. The flight duration is 2 hours. Do you want to travel to Patagonia? We're regional IDEAS experts and pride ourselves in designing tailor-made trips that are a perfect fit for our travelers. If you're interested in planning an adventure combining several regions in Argentina or Chile, don't hesitate to reach out to our Trip Specialists for a free consultation. We are glad to help you with your lifetime trip to Patagonia.